Northwestern Center for Talent Development
One of the most rigorous and most recognized youth academic programs in the US
Hosted by the world-renowned Northwestern University
One of the most difficult to apply for and most recognized youth academic programs in the US
Same curriculum and faculty as offline camps in the US
With official CTD completion certificate and evaluation report
Top 3 students in each course can receive special mention award
Date:25 July – 5 August, 2022
Grade:5-7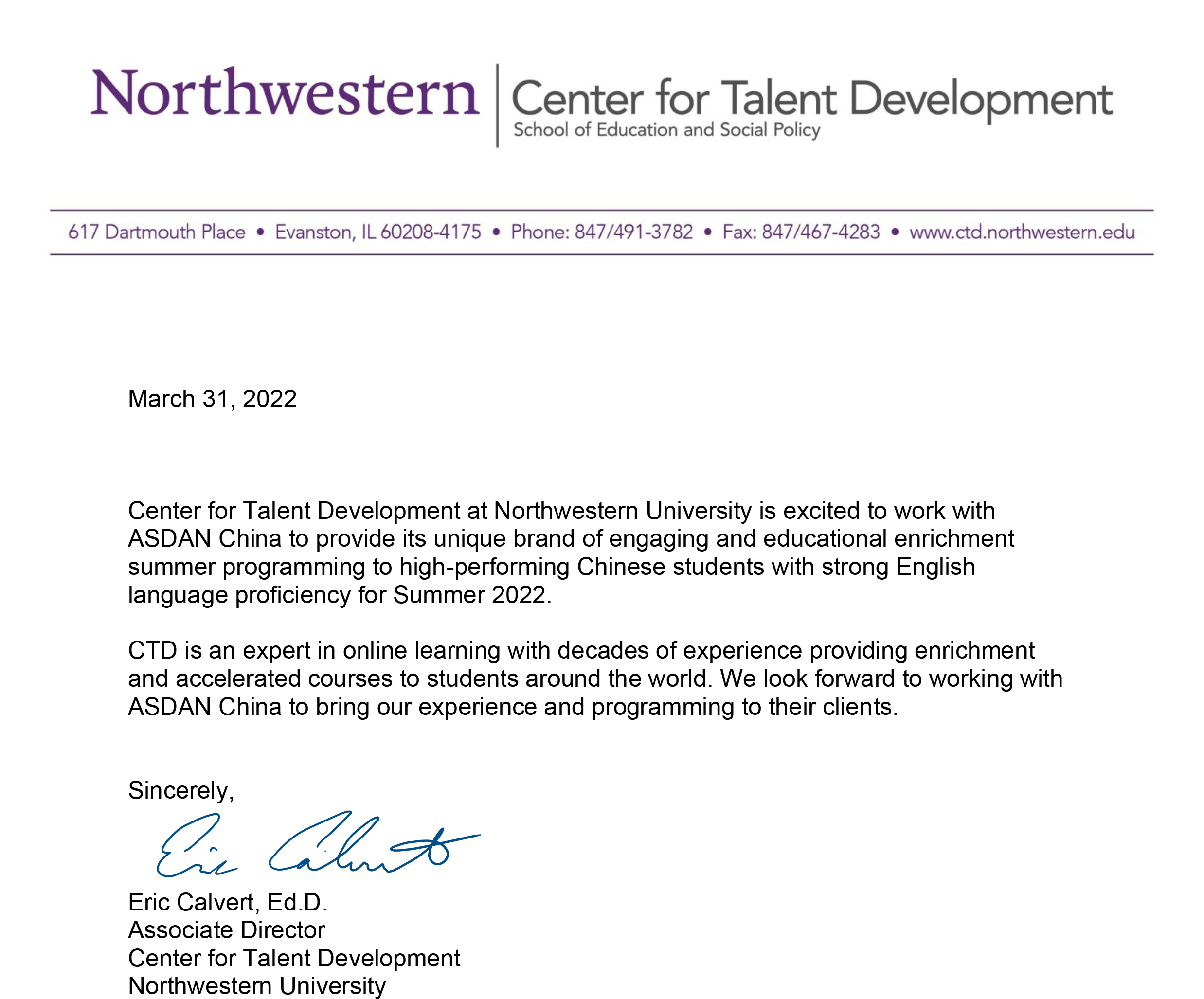 Program Introduction
ASDAN China reached a strategic cooperation with Northwestern University CTD – Center for Talent Development in 2022, which symbolizes the introduction of the CTD program to outstanding Chinese youth. The CTD offers two main types of programs: In-person camps at Northwestern University and online camps. Due to epidemic prevention and control requirements, CTD will work with ASDAN China to open online camps in the summer of 2022, bringing its most classic elementary school programs for grades 5 to 7 to China first. It will open its middle and high school programs in the winter and summer of 2023.
The release of the Marland Report in 1972 is often described as a watershed moment in the field of gifted education and remains a touchstone for the field today. The report outlined the unique learning needs of gifted students and the challenges faced by these students in U.S. schools. The National Association for Gifted Children (NAGC) supports those who enhance the growth and development of gifted and talented children through education, advocacy, community building, and research. Working together NAGC will achieve the vision where giftedness and high potential are fully recognized, universally valued, and actively nurtured to support children from all backgrounds in reaching for their personal best and contributing to their communities.
Why Are Gifted Programs Needed?
Gifted and talented students and those with high abilities need gifted education programs that will challenge them in regular classroom settings and enrichment and accelerated programs to enable them to make continuous progress in school.
• Gifted students need gifted programming in many cases because the "general education program is not yet ready to meet the needs of gifted students" due to lack of general educators' training in gifted education and the pressure classroom teachers face to raise the performance of their struggling students.
• It's more than just giving students a challenge in classrooms: Gifted programming positively influences students' futures. Several longitudinal studies have shown that gifted programs have a positive effect on students' post-secondary plans and achievements.
• Further benefits of gifted programs have been shown to include that students who had participated in gifted programs maintained their interests over time and stayed involved in creative productive work after they finished college and graduate school.
About Center for Talent Development
Since 1982, CTD has evolved from a single focus on talent identification to a multi-faceted research and service organization with four central goals: Talent identification, Talent development, Research, and Advocacy. By continually assessing programs, conducting new research, and surveying participants, CTD remains at the forefront of gifted education and talent development. Today, CTD offers hundreds of enrichment and accelerated courses for students age 3 to grade 12, parent and educator learning communities, and program development for schools.
CTD has a wide array of high-quality, captivating courses for students from age 3 through grade 12, which includes Science, Technology & Engineering, Mathematics, Social Science and Humanities, English & Language Art. Whether it is advancing in a core subject or trying something new, they have what students need to develop all their talents and interests.
| | |
| --- | --- |
| TIME | ACTIVITY |
| 8:00am-11:00am | CTD instructor online classes |
| 3:00pm-4:00pm | Bilingual Teaching Assistants office hour |
| Others | Complete class assignments |
*See schedule below for more details
Math Puzzles & Games
Learn and apply critical math topics through games of skill and luck including chess, KenKen and Sudoku, and carnival games of chance. Concepts come from algebra and geometry and include an exploration of probability and statistics. Apply the concepts of risk analysis, expected value, and outcomes to create your own game and predict the success of the players!
Essential Questions:
How can we apply logical reasoning to crack the code of classic math puzzles and logic games?
How can we determine the likelihood of single events and compound events?
How can we manipulate the mathematical formulas for probability and relative frequency?
How can we analyze probabilities to interpret odds and risk of events in a game or contest?
Outcomes:
Know how to calculate theoretical and experimental probability.
Understand multiple models for determining probability of compound events.
Understand the basic principles of combinatory, including permutations, combinations, and other counting methods to determine the number of ways events can occur.
Apply concepts of probability to problem-based tasks and activities.
Gain deep insight into how they can approach challenging puzzles and games.
Create a carnival game and analyze its possible outcomes, fairness and likelihood of winning.
Sample Schedule: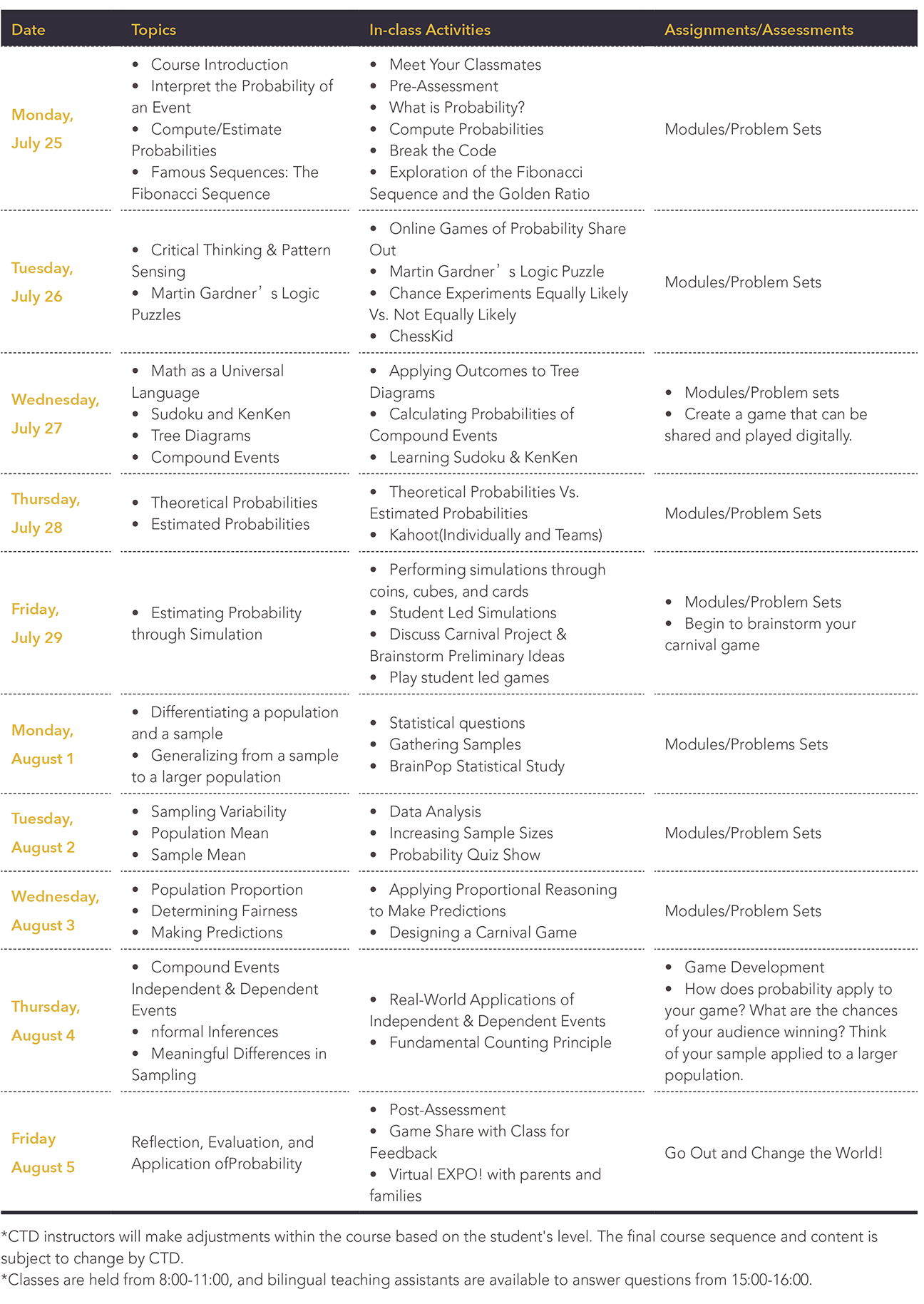 Real-World Math
Real-world issues big and small can be understood and addressed using math! Learn to apply exponents, percentages, multi-step equations, and more to devise solutions for both practical living and in the interest of solving some of the most complicated issues facing the planet.
Essential Questions:
How does math even work?
How are structure and patterns useful for solving problems?
What does a real-world mathematics problem even look like?
What parts of your arithmetic foundation do you rely on the most?
What parts of your arithmetic foundation could use some extra strengthening?
Outcomes:
Know how mathematics can model—not just quantify—real-world situations.
Understand how mathematics can be used to compare, contrast, and explain real world situations.
Apply mathematical thinking as part of a decision-making toolbox.
Analyze, synthesize, or create a real-world challenge that can be explained or made clearer using mathematical structure. Make and communicate a decision. Justify and explain their reasoning using mathematics as part of their process.
Sample Schedule: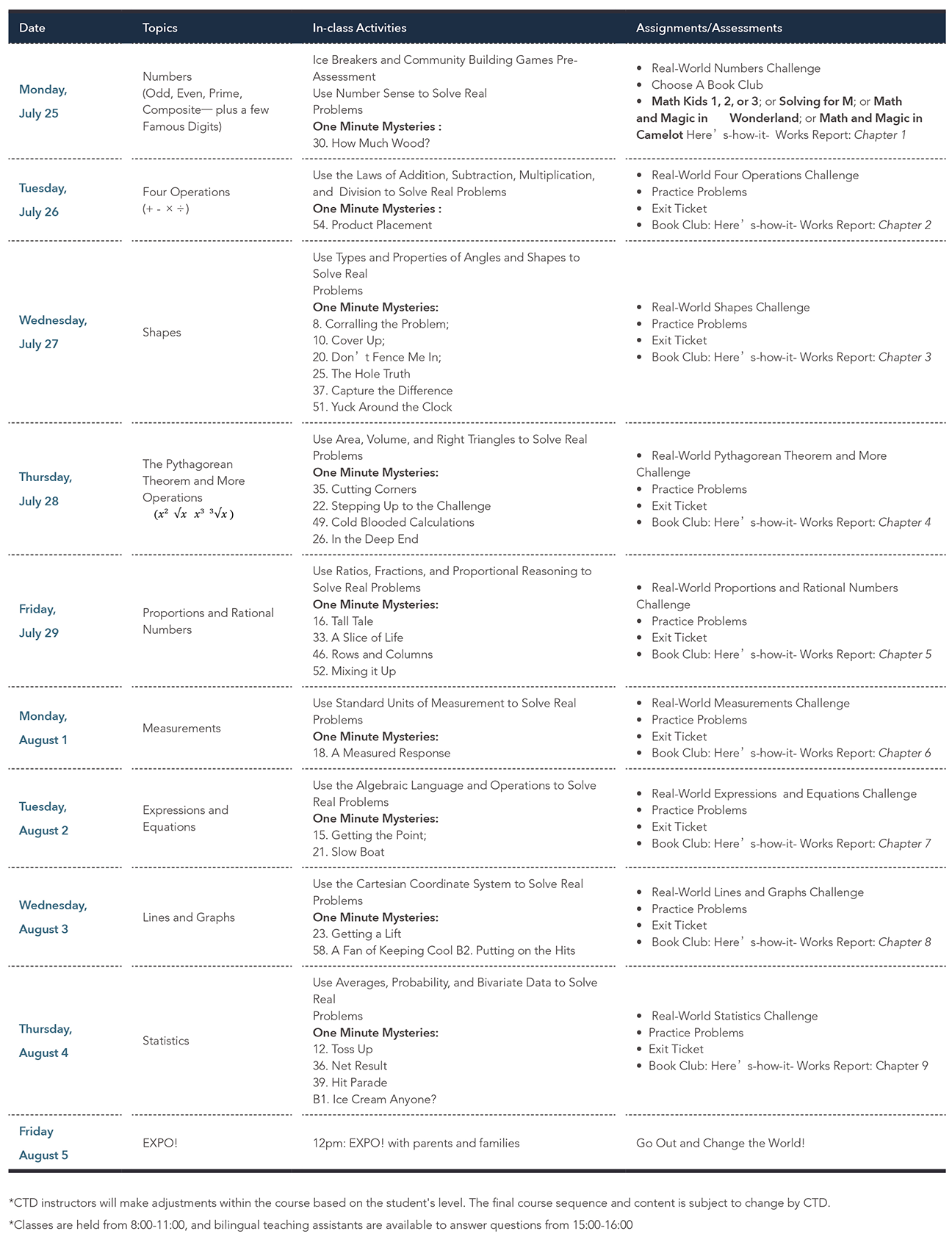 Breakout Bio: Infectious Diseases
Infectious diseases have puzzled humanity from the beginning of time. Students learn about microbiology, immunology and epidemiology as they investigate how the human immune system works to keep us healthy. Study advances in medical technology that have helped combat and eliminate diseases and allow us to find cures for others. Learn to question and hypothesize, identify and manipulate variables, measure and record data, and interpret results.
Essential Questions:
What are pathogens? Where do pathogens exist in our world, and what effect do they have on the organisms they afflict?
How do the many cells of the immune system work together to fight pathogenic invaders and keep us healthy? What happens when the immune system fails?
Why is it important to understand the nature of infectious diseases? What real world lessons can we learn from studying infectious diseases?
How are individuals and populations affected by infectious disease? What are the cultural impacts of infectious diseases?
Outcomes:
Identify different types of pathogens and associated diseases.
Know the components of the human immune system.
Understand how pathogens cause disease, epidemics, and at times pandemics.
Explain how professionals attempt to identify and keep humans safe from infectious agents.
Research the latest advances in medical sciences and their application.
Sample Schedule: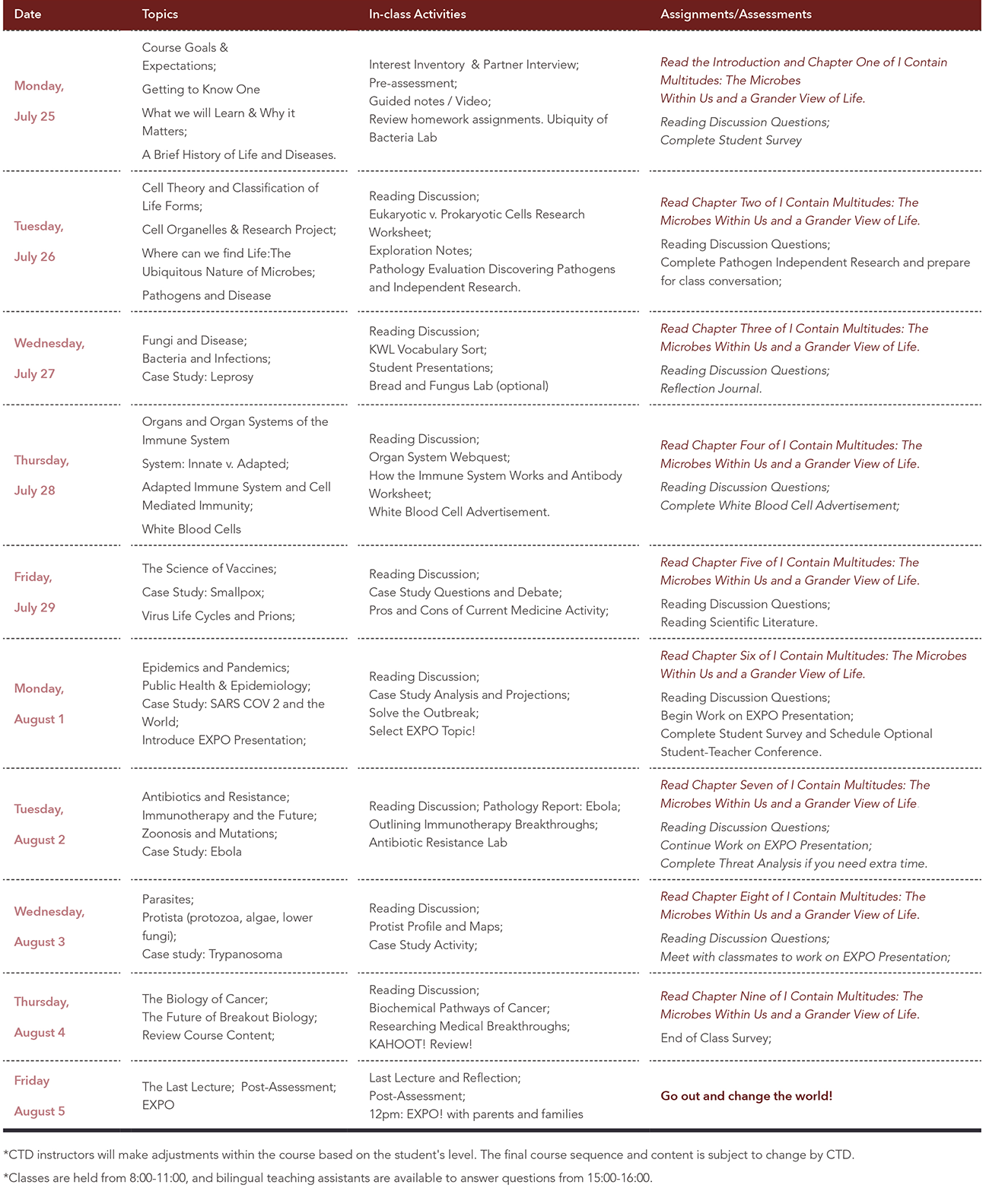 Brain Science
Discover the secrets of "the most complex thing in the universe": your own brain, a three-pound mass of miles of nerve fibers that controls everything you do and how you react to the world. In this mind-blowing course, learn how the brain impacts your decisions, controls your memory, influences your mood, and more!
Essential Questions:
What is neuroscience and how does it inform other fields of study such as physiology, psychology, and even sociology?
How do we study the anatomy and physiology of the brain? How does the human brain compare to that of other organisms?
How have human brains evolved over time? How will technology change both our understanding and the function of the brain?
Outcomes:
Know essential terminology in neuroscience, physiology, psychology, and sociology; know how organismal brains and neurological networks interact with the world around them.
Understand how sensory inputs allow the brain to perceive reality; understand the anatomy and psychology of the human brain and several other organisms.
Apply the scientific method to class activities, discussions, presentations, and research; apply various methodologies to study the brain; apply theories to explain neurological, physiological, psychological and sociological phenomena.
Analyze articles, media, videos, and virtual reality to understand brain science; synthesize original ideas to explain the functions of the brain, explore the consequences, constraints, and applications of novel solutions to a problem or challenge; create models, posters, public service announcements, and presentations to demonstrate understanding of topics.
Advocate for the responsible application of science and ethics.
Sample Schedule: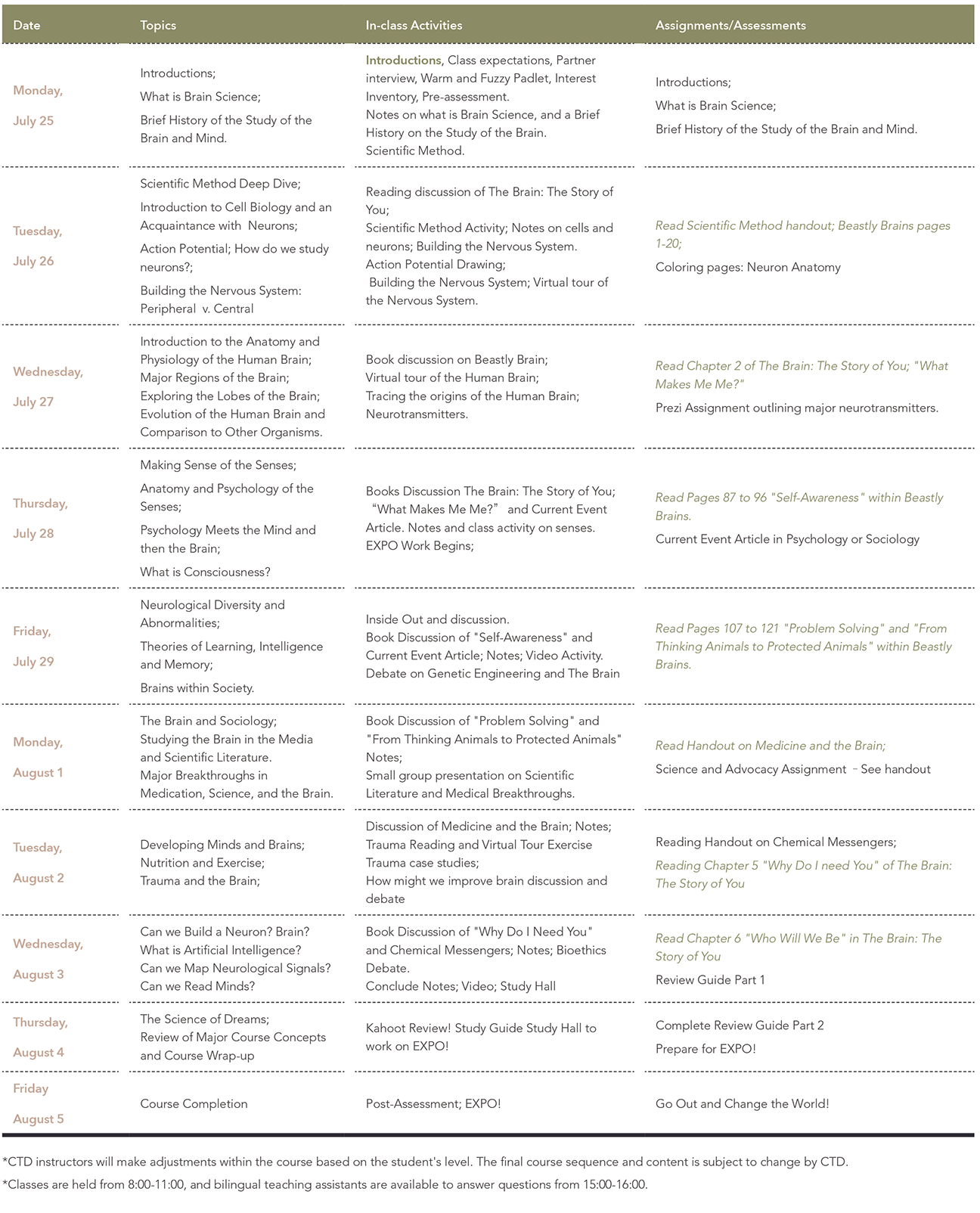 Surviving in Space
Imagine NASA wanted YOU to live on Mars. Are you ready to launch? Investigate the red planet and the scientific and technological advancements NASA is developing to make travel to Mars a reality. Develop and propose your own plans for survival in space by researching current real-world projects that are preparing humans for off-world colonization.
Essential Questions:
How can we sustain life outside of Earth?/li>
How would we get materials to another planet?
What would living off of Earth look like?<
Outcomes:
Know the limitations and problems that come with living off of Earth.
Understand how NASA and other space agencies problem solve.
Apply their understanding by designing supply drop-off models and mars colony models.
Create devices to protect cargo from an orbital descent.
Apply their new knowledge to theoretical Mars colony designs.
Sample Schedule: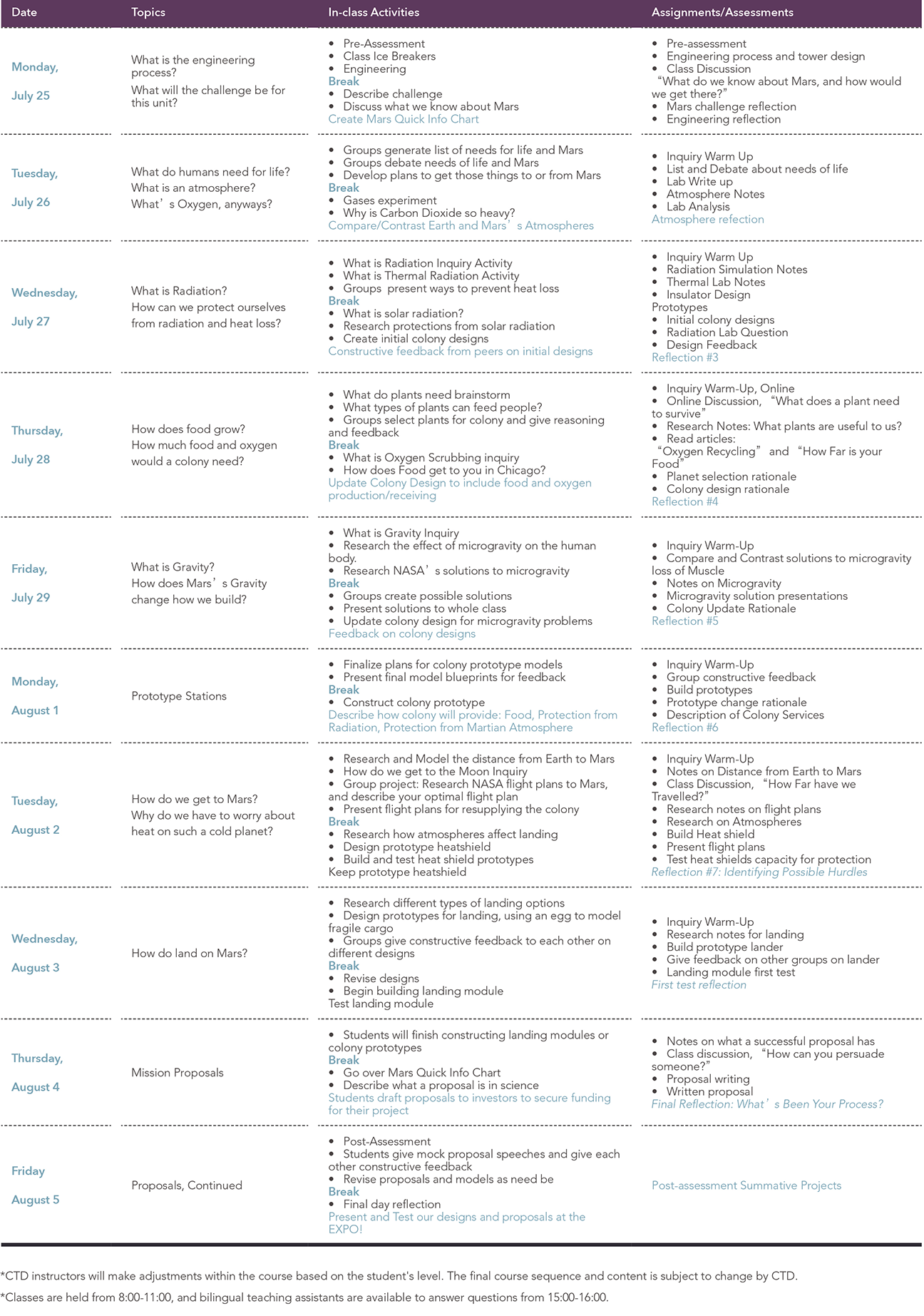 Aerospace Engineering&The Science of Flight
How do the fundamental forces of flight work to get a giant machine off the ground? Apply the principles of aerodynamics to your own designs. Learn about the history of flight, and through experiments, create hypotheses, observe flying machines, and compose lab reports to understand the physics principles behind the science. Apply the engineering process as you become an aeronautical engineer.
Essential Questions:
What major scientific principles make flight possible?
Who were the major contributors to the evolution of human flight?
What process can be taken to improve experiment results?
Outcomes:
Know and gain an understanding of the history of flight and how humans have worked to improve machines that make flight possible.
Understand how to apply crucial scientific concepts in flight to their designs and projects.
Apply the scientific method in a collaborative setting to design, test, and build experiments where meaningful data is obtained in order to test hypotheses.
Analyze results and form conclusions based on experiment outcomes.
Use results to modify and improve original designs of models.
Sample Schedule: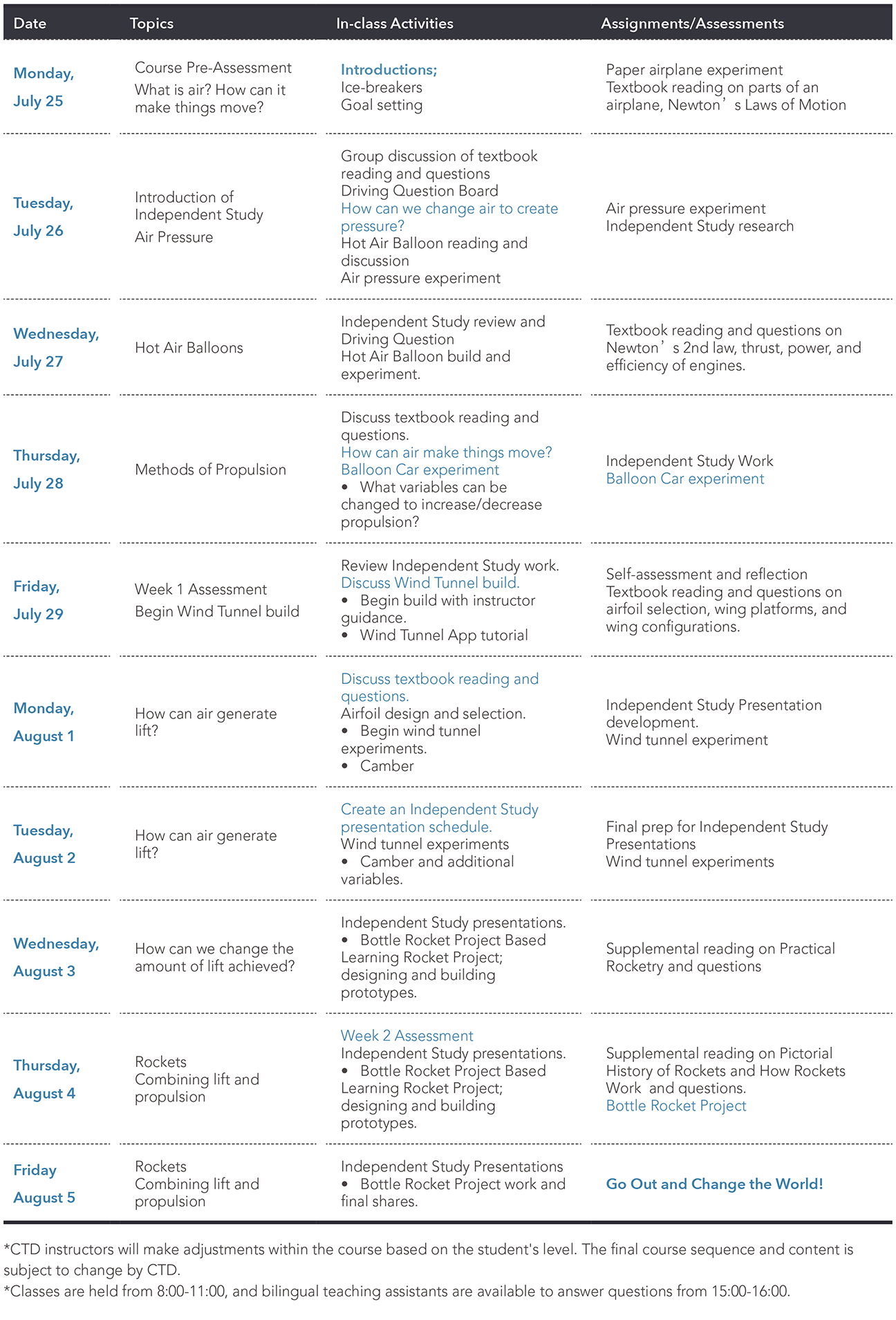 The tests and the camps, combined, helped me identify what I love and also what I don't. When I was younger, for example, I had always wanted to be a vet. After vet camp, however, I realized I loved medicine, but I didn't want to work with animals. Most people don't get experiences like NUMATS gave me until they are in college or even in their first jobs. Because of NUMATS and CTD, I'm much more confident about my career choice. I now know I want to use my passion for medicine with people.



The CTD Geometry class fostered my work ethic and my desire for learning, and while these aspects of myself still aren't as great as I make them out to be, they wouldn't be where they are without CTD's teaching. My teacher was very helpful in getting me through this class. At times, I struggled but my teacher was able to encourage me to keep going and I'm so glad that I did. The Geometry class gave me the opportunity to take an HS level class before I started high school. I knew that the high school that I wanted to go to was competitive, so taking the CTD Geometry class helped me stand out among the other students.
Do not shy away from camps. Even if you are a shy person, you will develop many friendships at these camps by interacting with peers. Try to take advantage of the chance to get to know people outside of your school; you may like being at camp better than you like being at school. If you are attending an academic focused camp, do not spend all your time focused on your grade. Complete your homework first, and then spend the rest of the time you have with your friends. Summer camp is a rare opportunity that allows you to make countless friends and create life-changing experiences, so don't miss out.
The several online courses that I took through CTD have proven to be extremely beneficial to me as my classes this year transitioned to virtual settings, as I had already formed the necessary skills to work through a remote learning environment. The organizational and communication abilities I developed through my several CTD classes helped me navigate through the online college experience and be successful.
CTD exposed me to new information and challenges, which helped make me more adaptable and more confident that I could rise above difficult situations.







Date
25 July – 5 August, 2022 (Weekends break)
Grade
5-7
Application Process
Step 1
1.Submit application form and relevant documents (principal recommendation form and relevant transcripts)
2.If you do not have a principal recommendation form and relevant test scores, you will need to take the ASDAN China Academic Assessment
Step 2
Receive the acceptance letter
Step 3
Sign the e-contract and pay the fee with the acceptance letter
Step 4
Receive preparation instructions before the start of the program
Step 5
Participate in the program and receive official CTD program certification
Application Method
1. 90th percentile or above in math and 75th percentile or above in English on a nationally normed, standardized grade-level assessment(e.g.,MAP, STAR, ETC.) or participation in above-grade-level testing through CTD above-grade-level assessment or similar program, or successful completion, within the past two years, of a previous CTD course at the same or higher admission tier and in the qualifying subject area, or The requisite scores for PSAT 8/9 - Taken in grade 6 or earlier.
2. Recommendations from invited principals of partner schools and submits school transcripts and meet the following English assessment.
4. Without the above test scores, students need to pass the online selection test organized by ASDAN China (focus on math and English skills).